Talladega Pit Stop is hosting the Talladega Bluegrass Festival!
August 11-13, 2023
Make the most out of your race week
with a stay at Talladega Pit Stop!
2023 GEICO 500 Bundle Package
April 23rd at Talladega Superspeedway
For race week we have a 5-day bundle package, including:
Shuttle Service to the Superspeedway Saturday and Sunday
Breakfast Daily
Concert Saturday Night
7pm Late Checkout
RV (50 & 30 amp), Cabins, Tiny Homes and Tent Sites
Fire Rings, Yard Games, General Store
Firewood & Ice Delivery Available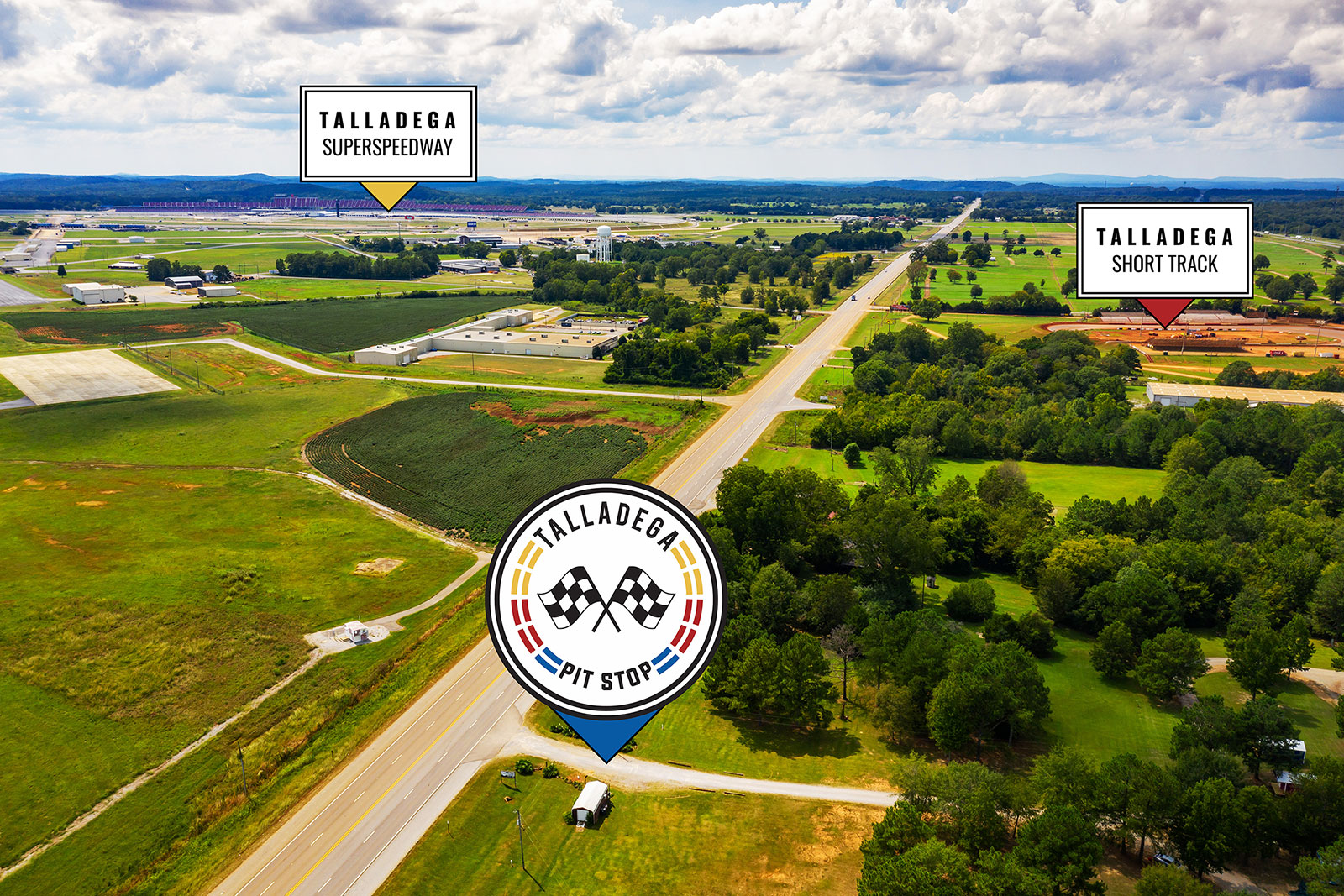 So close you can smell burning rubber.
Only a hop, skip, and a bump draft away from the Talladega Superspeedway and Talladega Short Track! Why sit in traffic when the race track could be in your backyard?
Your next best lodging option is 10 miles away, so… not walking distance.
Unless you want to stay at the nearest gas station, that's about 3 miles away.
Talladega Pit Stop Offers:
Camping, RV, and Tiny Home Experiences
Full sewer & bath house / toilets available
Camp General store
Coin laundry facility
The answer to all your problems
Talladega Superspeedway Race Schedule
Choose your Talladega Nights
Whether you're looking for camping or glamping, we've got you covered.
Pick from an assortment of primo rentals that get you closer to the nascar races:
Class A, B and C RV Sites
Furnished Rustic Cabins
Furnished Tiny Homes
Furnished Campers
Primitive Tent Sites
Stay for a good time and stay for a long time!
We have both short and long term rentals available.
Want to camp but don't have an RV?
21+ Fun
Let's be real here. You're just a big kid at heart! We won't keep you away from our games or ATV trails. Just promise not to cut a 7 year old in the line.
When you're done playing and feel your hanger boiling, go ahead and use one of our ground's BBQ's or bring your own. Not much of a grill master? We've got pizza delivery available!
After all this delicious food, you're going to work up a mean thirst. That's why we load up our camp's general store with all the cold snacks your heart desires!
Keep the Kids Happy
It's the kind of vacation your kids won't groan over.
We offer a wide variety of ways to wear out your youngsters and get them off their cell phones.
Enjoy some campground games: Pickleball, Tetherball, Horseshoes, Cornhole, and even a bounce house! Or hit the trails on one of your ATV's.
Is your kid allergic to old-fashioned fun? We have outdoor movie screenings on our grounds as well, just in case.
"Moooommm, can we bring Lucky?!"
Yes, yes you can!
We are a dog friendly location (sorry, pussy lovers)…
If you promise to keep your pooch leashed and supervised, you can bring 'em on over! But remember, if he bites, we gon' fight!
TallaBama Student Zone
Calling all frat & srat stars, burnt out book worms, and super seniors. It's time to get TallaBama LIT.
We know you didn't come all this way just for our horseshoes and tetherball. That's why we set aside an area designated for you and your whole crew. Call us up and ask to be placed in our TallaBama Student Zone! You have to be 21 to drink with us, and 18+ to have a damn good time.
If you check in with your school ID, you save money. More money = more pizza. What's not to love?